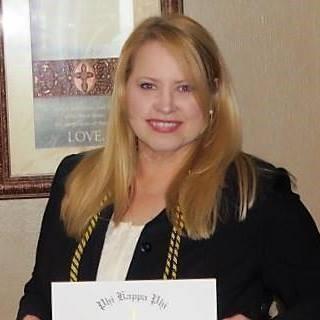 Phone: (256) 228-6718 school (256) 691-6983 cell
Email:
Degrees and Certifications:
Ed.D. Doctorate in Educational Leadership University of Alabama 2024 Ed.S. Educational Specialist in Instructional Leadership Jacksonville State University 2020 MS Ed. Master's in Instructional Leadership P-12 Jacksonville State University 2016 B.S. Elementary Education K-6 Athens State University 2007 Reading Certification (P-12) B.S. Accounting Jacksonville State University 1999 CDL Certification since 2010 LETRS Certified Orton Gillingham Trained ALET member (Alabama Leaders in Educational Technology) 2012-present Experience: 2016-Present Reading Specialist Jackson County Schools 2012-2016 Reading and Math Teacher Gadsden Job Corps/ Men's Indoor Soccer Coach 2010-2012 Store Manager Burke's Outlet Fort Payne, AL 2007-2010 Teacher Crossville Elementary School 2008-2010 Girl's JV/Varsity Soccer Coach Crossville High School 4A Region 6 2006-2007 Paraprofessional Fort Payne High School 2004-2006 Substitute Teacher Fort Payne City Schools 2004-2006 Computer Teacher Northeast Alabama Community College 2003-2004 Accounting Teacher Gadsden Business College
Shannon Titshaw

My name is Shannon Titshaw. This will be my 15th year as a teacher and my eighth year working for Jackson County School System as an ARI Reading Specialist. I enjoy working with the elementary staff by leading professional development workshops, modeling strategies, or techniques for teachers, and conducting collaborative lessons. My focus is the overall reading program in the school and to serve as an advocate for the literacy program.

I previously worked for two years as the head varsity girl's soccer coach at Crossville High School and four years as the head men's indoor soccer coach at Gadsden Job Corps. I volunteered for nine years as a girls' youth soccer and softball coach for Fort Payne Parks and Recreation. Prior to becoming a teacher, I worked for 10 years in retail management as Assistant Manager and Manager for various stores, which included: Hibbett Sports, Burke's Outlet/Bealls, Remington Outlet, Rutenberg's, Old America Store, and Cape Isle Knitters Outlet.

I reside in Rainsville with my husband, Greg Titshaw, who is also an educator and is the Technology Coordinator for Fort Payne City Schools. We have three daughters that include twins; Kelsey, Riley, and our youngest daughter, Brooke. In my free time I enjoy spending time with my family and working on remodeling projects.