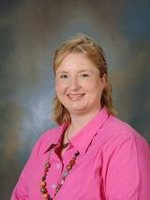 Phone:
Email:
Degrees and Certifications:
Miss

Deborah Helms

Subjects Taught
Family & Consumer Sciences, Home Economics, Health


Education
1983 - Graduate of Skyline High School.

1983-1986 - Auburn University working toward a degree in Family & Consumer Sciences.

1988 - Graduate of Northeast Alabama State Community College with an Associate of Arts in Theatre.

1991 - Graduate of Applachian State University with a Bachelors of Science in Speech & Theatre Education.

1996-1998 - Alabama A&M University - Teaching Endorsement in Family & Consumer Sciences.


Experience
1991 - Honor Student Teacher - Avery County High School, Newland, North Carolina

1996 to Present - Family & Consumer Sciences Teacher - Skyline High School, Scottsboro, AL.


Bio
Born May 31st 1965, I am a lifelong resident of Pleasant Groves, Alabama in Jackson County. I am the oldest child of Marvin C. and Patricia A. Helms and granddaughter of the late W.M. "Goodbuddy" and Cora Helms also of Pleasant Groves as well as the late Ernest and Beatrice Mathias of Huntsville, Alabama. My younger brother, Jeff Helms (also a Skyline graduate), his wife Laurie, son Benjamin, and daughter Annie live in Montgomery, Alabama where Jeff is the director of Communications for the Alabama Farmer's Federation.

I am a 1983 graduate of Skyline High School. After graduation I attended Auburn University in pursuit of a degree in Home Economics. After being diagnosed with a major health problem I left Auburn in 1986 for Northeast Alabama Community College. While at Northeast I fell in love with the theatre and decided to change my major. In 1988 after receiving my Associate in Arts I transferred to Appalachian State University in Boone, North Carolina. In December of 1991 I received a Bachelor of Science degree in Speech and Theatre Education. After college I worked for 5 years in retail management before being hired by the Jackson County Board of Education to teach Family & Consumer Sciences at Skyline High School. During my first year of teaching I also attended Alabama A&M University and completed my teaching endorsement in Family & Consumer Sciences.

Now in my twenty fourth year at Skyline I enjoy spending time with family & close friends, traveling to the North Carolina High Country, reading, cooking, crafts, and sharing my life with my furry, four-legged children. I am an advocate for Down Sydrome and participate in the Buddy Walk each year in Montgomery, Alabama. After being diagnosed with sarcoidosis in 1995, I also advocate for autoimmune disease.

I am the president for the Skyline Farms Heritage Association, a historical association whose purpose is to preserve the unique history and culture of the Skyline Community as well as all of Cumberland Mountain. I am also a member of the Jackson County Chapter of AAUW. I am very involved in community activities and have the firm belief that this is an important responsibility. I believe that to those that much is given, much is expected.

Several years ago, with the support of Amanda Peek (Woodville High School) and then principal Kevin Dukes (now Jackson County Superintendent) I started Skyline's first Backpack Weekend Feeding Program called Backpack Buddies. This program is designed to provide snacks and food for children who may not have adequate food at home on the weekends. Food items are selected that little hands can open and eat directly from the container and foods that have some nutritional value. Our program subsists completely from donations from the community. This program also provides community service opportunities to high school Family & Consumer Sciences students who help to pack food packs each week. Today we serve about 50 students in grades Pre-K through 12th grade.

In addition to the above, some of my passions include Appalachian regional history and heritage, particularly the history of the Skyline Farms project, children's and women's issues, literacy and education, human rights, and vocational education.