August 2021 "Employee" of the Month!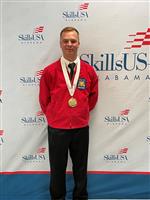 Mr. Luke West is EPCOT's August "Employee of the Month!
Luke is a senior at Skyline High School and currently works at Avans Machine Inc. as a co-op student. He has completed two years in the Precision Machine Technology program here at Epcot and this past summer won the gold medal in CNC Milling Specialist. His future plans include becoming a full-time machinist.